Our Mission is to be a dance club that provides dance opportunities and/or training and raises awareness of individual dancers, dance teams, dance organizations, dance crews, and dance companies populating the communities in which Subjective Dance Club chapters are located.
Our 8-Year Anniversary is February 25, 2024.
We're looking to grow and continue to inspire.
IF INTERESTED IN WORKING WITH US AS STAFF OR A BOARD MEMBER
CLICK HERE
Our origin story…
The Subjective Dance Club, formerly known as the Subjective Dance Company (a d.b.a. of The BDS Company, BigBsBDS Inc.) was founded on January 2, 2016 in Richmond, Virginia by Gregg D. Whitlock Jr. a.k.a. Coach Gregg b.k.a. PapiiBDS. It occurred after an outdoor meeting with a large group of disgruntled mothers on a Winter evening in December 2015. The mothers were adamant in stating that Coach Gregg needs to start his own dance team so their kids can dance with him and they can pay him directly. Coach Gregg, however, did not want the average dance company or to be head coach for just another dance team. He's still focusing on his personal growth as Papii, The Performer.
Instead, he went to the drawing board…
and the mothers took their kids to other local majorette dance teams. Coach Gregg decided that what the market needs is a company that recognized the different dance scenes populating Richmond, Virginia, cares about unity amongst the dance community, promotes and raises awareness of the many different opportunities already available in the city of Richmond, and provides good quality dance related training to students, instructors, and business owners.
Once decided on the perfect name and plan, he proceeded to organize meetings and interviews with Richmond based dance business owners, announcing plans like development of the VA Dance Directory while learning about difficulties they are facing as dance business owners.
After hosting a few events and reviewing meeting notes, Coach Gregg determined that, in addition to the dance business owners, it's the young African-American males (like himself) that are the dancers in Richmond, Virginia and in most dance communities that still need a home away from home and a place to be creative, be free, build, network, and dance with like-minded individuals on a regular basis. Today, we operate as a support hub for authentic street dancers. 
The Subjective Dance Club now consists of various choreographers, performers, creatives, and business owners and is supervised by our Founder and current Creative Director, Coach Gregg. SDC is only a few years old but Coach Gregg has been choreographing and creative directing for over 18 years and an independent contractor of various services for over 21 years. To put a title on his style of choreography, which welcomes the merging/fusion of various dance styles while bringing music to life and/or storytelling, he developed the terms Subjective Dancing and Subjective Dancer.
Coach Gregg believes that, like a painter, dancers create art based on how they personally feel someone should move to a particular song/sound at that given moment. That piece of art is then left open to be perceived by viewers however it hits each of them, whether it paints the same picture/story the original choreographer intended or not. It's all subjective.
In an effort to brand the term, he launched the Subjective Dance Company as a d.b.a. of The BDS Company, BigBsBds inc. and proceeded to teach dance for various companies while creating platforms for unique, creative, and adept dancers. Approaching the anniversary of year 8, we are preparing for full transition to 501(c)(3) status as a chapter based non-profit organization through expansion of our Board of Directors. The Subjective Dance Club teaches and focuses on Hip-Hop dance styles but incorporates creative dancers of any dance style with a hunger to be great, entertain, inspire the youth, and/or battle others. All ages are welcome. SDLions are 18 and up, SDTigers are 11-17, SDBears are 10 and under, and together we're the SDAnimals. We are here to uplift performers through acknowledgement, awareness, knowledge, fitness, fun, fellowship, and technique. We aspire to inspire while bridging the gap between stage and street dancing. Visit us on Facebook (inactive page), Instagram, or YouTube.
The first official meeting of the Subjective Dance Club was on February 25, 2016 with the launch of SDCVA, Subjective Dance Club Virginia. That meeting took place in the Gensworth BrightLights Education Center on the third floor of Richmond CenterStage, now known as the Dominion Energy Center of Performing Arts located in the Downtown area of Richmond, Virginia. SDC was originally developed to serve as an International Dance Organization, a Traveling Dance Team, a Traveling Dance School, and an Unofficial Talent Agency. Since launching, we've become and pride ourselves on being a support hub for authentic street dancers and an organized representation of raw Hip-Hop dance amongst the performing arts community. Only time can tell what our future holds. The long-term goal is to launch multiple dance club chapters that support our mission and possess club facilities that are strictly for dancers and Subjective Dance Club members worldwide.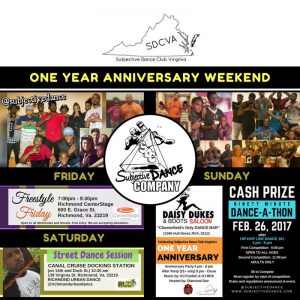 During our first four years of establishment, we've successfully launched recurring events like SubjectiveDance BattleGrounds, a multi-part dance competition set to shine light on the street dancers and battle dancers of the local community, Freestyle Friday, an open dance session that gives street dancers the opportunity to meet others while dancing in a professional studio setting, pop-up dance classes that are open to the general public, private dance training program schedules for individuals, Technique Tuesday, a crash course dance workshop on the techniques of multiple Hip-Hop dance styles taught by special guest instructors in one setting, and our company dance teams, referred to as the SDC Performance Squad and the ohMy! Unity Dance Team.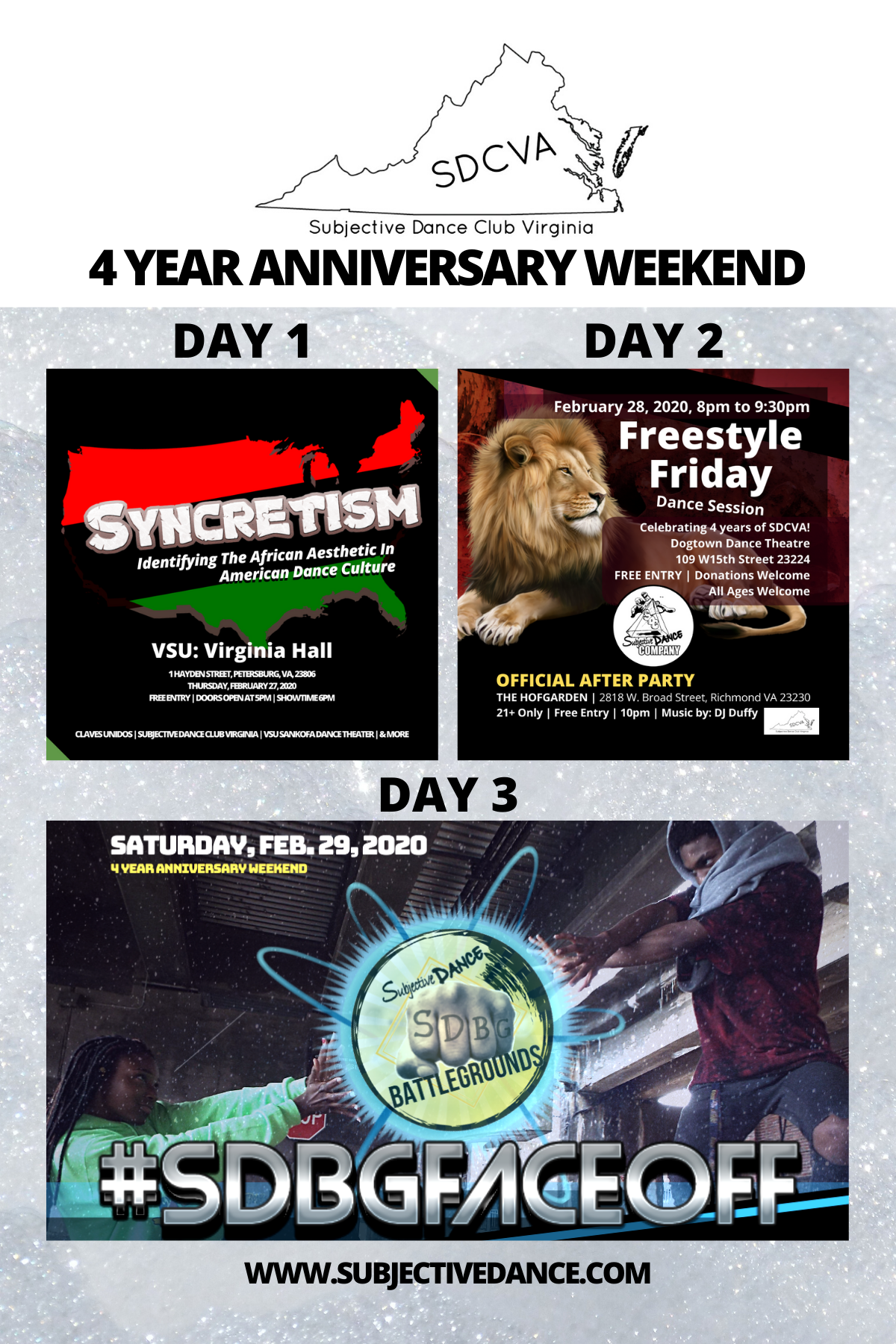 To date we've been blessed to be able to give dancers the opportunity to…
Be featured in music videos
Participate in live festival performances
Be featured on live television (including local News in DC and VA)
Compete and win in national dance competitions
Dance in some of the Greater Richmond Region's most established dance studios
Dance in nationally recognized arenas
Perform for the NBA
Meet international celebrities
Experience road trips from VA to CA, FL, MD, and NJ
Train with industry level choreographers
Train for shows like America's Got Talent and Kid's Got Talent
and more
Our efforts have led to members being booked for contracts servicing… 
GEICO
Richmond Parks and Recreation
Various dance studios
Richmond Public Library
Studio4 Dance Agency
Bacardi
Red Bull
The Martin Agency
Boys & Girls Club of Metro Richmond
ESPN
Virginia State University
Virginia Commonwealth University
Chesterfield Detention Center
Various Local Businesses 
and more
Ultimately, we've developed the ability to inspire professional dancers and provide opportunities for 'street dancers' and/or dancers who are self-trained to get paid for doing what they love and/or experience adventures that most minority dancers do not get exposed to in Richmond, Va. With this ability, we continue to give hope, inspiration, and valuable life lessons to dancers of various ages.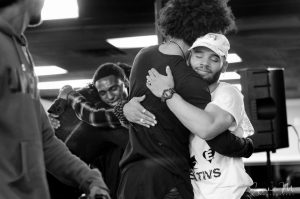 Thank you for your motivation along this journey.
Can you see yourself running/working with a Subjective Dance Club Chapter? Let's talk.
Email info@subjectivedance.net or Click Here