On this coming 4th of July weekend, Les Twins will ​be in Baltimore, Maryland for a series of events hosted by our partners Na'ara Events and BMoreThanDance.
Friday, July 5, 2019 consists of a private screening of MIB International with the twins, then game night at Dave & Busters of Arundel Mills Mall.
Saturday, July 6, 2019 consists of a Masterclass, a Halftime Showcase (in which pre-registered dancers have an opportunity to perform a 2-minute set for a chance to win a cash prize), a dance cypher party, and a meet & greet all at Patapsco Arena.

Subjective Dance Club Virginia has 10% off on All Access Tickets for Saturday. Be sure to use our promotional code "SDCVA" when purchasing tickets. We also have a private bus that will be traveling from Richmond, VA to the event and then traveling back on Saturday night. Bus tickets are separate from event tickets, $45 for 1 or $40 for 2 or more, and are first come first serve. I, Coach Gregg, can be contacted for bus tickets and/or hotel discounts via email at subjectivedance@gmail.com or via phone at 804-442-8531.
​
Share the below flyer or share this post and visit BmoreLesTwins2019.eventbrite.com for your Les Twins Weekend tickets and event details.​ Don't miss a chance to represent for yourself, your team, and your city all while having fun with dance.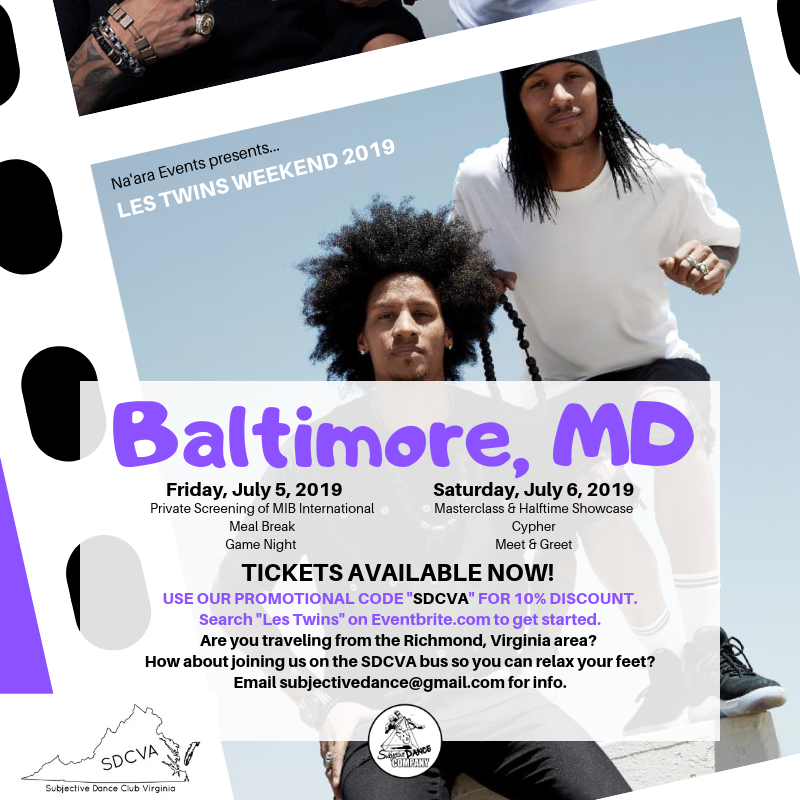 ​I hope to see you on the trip​.

​– Coach Gregg a.k.a. PapiiBDS
Subjective Dance Company Owner